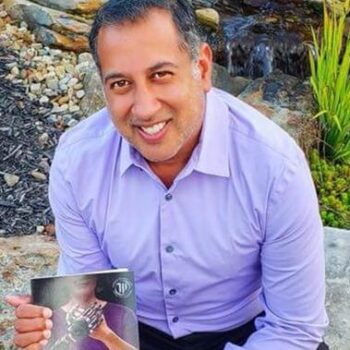 Ajay Seth, MD
Author of Rewired-An Unlikely Doctor, a Brave Amputee, and the Medical Miracle That Made History
Dr. Ajay K Seth is a board certified orthopedic hand and upper extremity surgeon located in North Canton, Ohio.  Dr. Seth earned his undergraduate medical degree from a combined program at the Medical college of Wisconsin. He completed his orthopedic residency program at the Ohio State University. He went on to do a fellowship in hand and upper extremity surgery from Allegany General Hospital. It was at there that he studied under four orthopedic hand surgeons learning surgical techniques for the hand, elbow, and shoulder as well as microvascular surgery.
On December 10, 2015, Dr. Seth became the first surgeon in the United States to perform a surgery allowing an amputee to move and feel her prosthetic hand with her brain. During the sixteen and one-half hour surgery, he was able to re-route nerves in the upper arm to give the patient the ability to feel as though the prosthetic hand is her own.
After the success of this innovative "bionic miracle" surgery, Dr. Seth established a relationship with Walter Reed Hospital in Maryland along with Johns Hopkins University. He is presently collaborating with Johns Hopkins University for research and development, demonstrating that Dr. Seth's patient is now the most advanced amputee in the world.
Dr. Seth maintains a robust private practice focused solely on hand, elbow, and shoulder issues.